In community listening sessions, meetings, and conversations for the Just Futures project, People's Economy Lab Leader Faduma Fido discovered just how detached most of us are from thinking and talking about the economy. We don't recognize it as an engine that simultaneously injects and extracts monetary value based on human activity, an engine we interact with on a daily basis and can influence to align with our values and principles. Instead, most of us experience the economy as an invisible entity we have no control over.
When asked how their communities experience the economy, community leaders shared the following:
"My community experiences the economy in a way that's foreign, it's outside." – Rebecca Berry, Skyway Coalition
"A lot of times in the African American or the African diaspora community when we think about economics, sometimes we think we're not even included or a part of the larger economics. So we have to kind of create our own." – Curtiss Calhoun, Black Dot Underground
"When we don't see ourselves having any power in our work, or any value, or any, you know, worthiness or dignity of our work, then that translates into how we live our daily lives. When we don't have power in our work, we don't think that we have power in our community." – Edgar Franks, Familias Unidas por la Justicia
"I represent the incarcerated community, and the way we experience the economy is it's designed to exclude us." – Omari Amili, Choose 180
In Spring of 2021, Front and Centered and Statewide Poverty Action Network worked with the People's Economy Lab to create the Just Futures project with the aim of creating a community vision, measures, and strategies for state accountability in the economic recovery from COVID-19. The groups had previously worked together on the New Economy Washington: A Path Forward report and identified the need for frontline communities to lead and to define their own vision towards a just and equitable future.
The project started with the support of a technical advisory group (TAG) and fundraising by the Washington State Department of Social and Health Services (DSHS). DSHS and the TAG had been working to shift the State's thinking about the economic recovery, to use more comprehensive measures of progress, disaggregated by race and geography, which is also a goal of the State's 10-Year Plan to Dismantle Poverty. At the same time, Front and Centered had recently led the effort to develop and pass the Healthy Environment for All Act, focused on environmental justice, which created a series of mandates for state agencies to be more accountable to communities on the frontlines of injustice.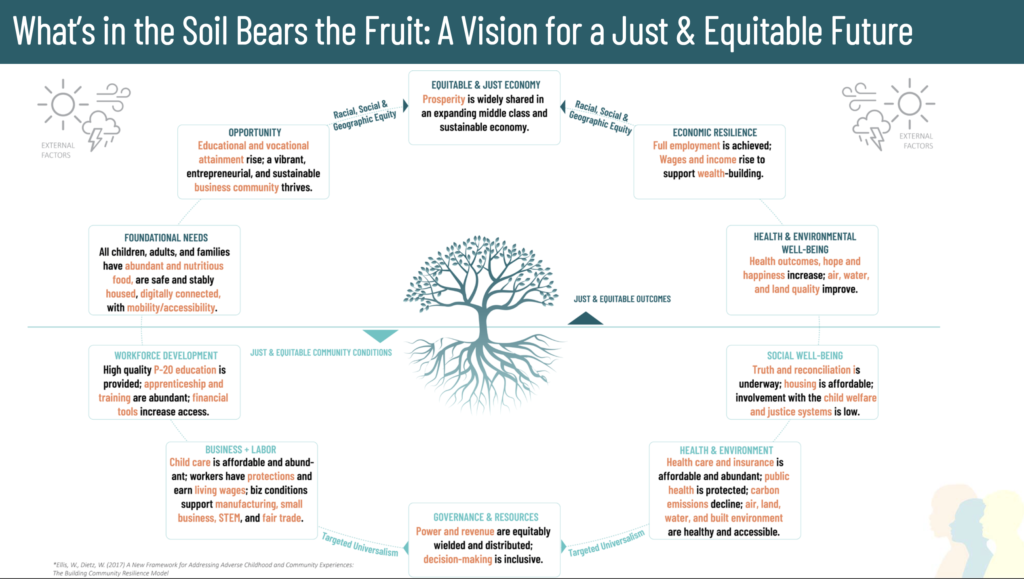 Drawing from relationships statewide, the Just Futures project partners put together a Community Leadership Committee composed of 11 community leaders representing Indigenous, African American/Diaspora, Latino/Hispanic, low-income, Asian American/Diaspora, LGBTQ, incarcerated, farmworker, youth, family, small business, and ministerial communities. As trusted community messengers, these leaders offered crucial insight, expertise, and legitimacy, representing important lived experiences and ensuring community-oriented programs designed and intended to seed economic resiliency will meet communities' needs. 
Kami Smith, Central Valley Early Learning Center

Omari Amili, Choose 180

Ronni Batchelor, Disability Rights Washington

Edgar Franks, Familias Unidas por la Justicia

Rebecca Berry, Skyway Coalition

Dan Nanamkim, Young Warriors 

Faaluaina Pritchard, Asian Pacific Cultural Center

Sedonia Young, Tacoma Ministerial Alliance

Curtiss Calhoun, Black Dot Underground 

Ara-Lei Yandall, Utopia

Yesenia Gonzalez, Latino Community Fund
The Community Leadership Committee began by developing a shared understanding of Washington State's economy, an economy built on exploitation of resources and human labor for the purpose of accumulating wealth and power for the few. They noted that our current economic system is founded on white supremacy, patriarchy, consumerism, and militarism. In contrast, the program partners seek a transition to an economy rooted in democracy, self-determination, sustainability, and equity that leads to shared well-being. 
Project partners also solicited 14 listening sessions across the state to receive input from communities most impacted and historically excluded in setting the vision and measures, assessing progress, and holding the state accountable. 
We weren't looking for simple answers. We know different communities in different geographies have different needs. The community listening sessions allowed us to get specific on the "who, where, and what" in order to identify the necessary economic elements that will lead to equitable outcomes. Community members shared not just their struggles, but also some of the innovative microeconomies they've built to meet needs unmet by the macroeconomy.
We heard:
The State has a responsibility to provide for basic needs, especially in less visible communities (e.g. rural, disabled, youth), including housing, food, healthcare, dignified work, social mobility. 

The State has a responsibility to maintain an inclusionary economy for communities formerly incarcerated and those living in rural areas.

Community-based organizations have a unique ability to understand the assets and needs of communities. The government needs to shift resources to invest in community-based organizations and communities.

There's a separation between communities' lived experiences within microeconomies and state-level decision-making and the macroeconomy.

In order to build power and self-determination, information, decision-making, and control needs to come from communities.
From all the information gathered, the experiences shared, questions answered, and in-depth discussions, we developed the following Cornerstones of Co-Governance for a Just & Equitable Future.
We also proposed four budget & policy actions for 2023:
Allocate 20% of each agency budget toward participatory budgeting with impacted communities in 2023-2024, aiming toward 50% by 2030

Create a $20 million dollar community assembly fund (over two years) to support community-based organizations to facilitate co-governance assemblies in local neighborhoods statewide

Replicate expanded HEAL Act for all state agencies with required Just Futures economic equity analysis of budgets, plans, policy proposals, grants, projects, etc. and an Assembly that connects local organizations together and to state government

Adopt a Genuine Progress Indicator for Washington State and mandate its use across agencies and coordination with community assemblies
In June 2022, People's Economy Lab Leader Faduma Fido presented the results of Phase One of the Just Futures project to Governor Jay Inslee on behalf of the Just Futures project partners. Watch the recording below.
We are now working on the second phase of the work to elaborate and operationalize key cornerstones in both policy and implementation. Stay tuned for updates!